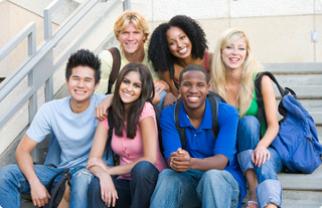 Help Your Students and Alumni Explore New Opportunities at Home and Abroad
With today's drive toward globalization, your institution's career center needs a robust resource to help students and alumni with their career aspirations both at home and abroad. GoinGlobal's convenient, one-stop resource empowers job seekers to efficiently conduct localized career research without wasting time surfing the Internet for generic, outdated information. We provide access to credible, constantly updated, location-specific employment resources, making it possible for career center staff and students to spend less time looking for information and more time acting on it.
GoinGlobal can help both new and experienced job seekers expand their careers in Boston, Berlin or Beijing – more than 120 locations worldwide. GoinGlobal also helps to increase your institution's placement rate and improve student satisfaction by providing actionable career intelligence that costs just pennies per student.
Our resources are developed and constantly updated by career experts based around the world - all backed by our exceptional customer support.
GoinGlobal provides:
120+ location-specific career guides featuring insider advice on top job search techniques and resources, with more than 500 employment resources per guide

16 million+ worldwide internship and job postings searchable in the local language, as well as English, updated daily

Key Employer Directory with detailed company profiles and contact information for leading in- country and multinational employers with operations around the globe

Expert guidelines for creating culturally correct resume/CVs and cover letters, with specific examples for new graduates and experienced professionals alike

Tactical interview advice to help get the job and cultural advice to ensure long term success

Local industry trends featuring up-to-date hiring forecasts for major employment sectors

Executive recruiters and staffing agency information to identify both part-time and full-time employment opportunities

Work permit and visa regulations, including up-to-date application requirements, researched and compiled by an experienced immigration lawyer

Industry-specific salary ranges and cost of living data to help financially prepare for your career move

Easy access to professional and social networking groups to develop valuable career and personal connections
A Go-To Resource for Top Colleges and Universities
For almost two decades, university and college professionals have relied on GoinGlobal to help students and alumni make the most of their study abroad experiences, successfully explore internship opportunities, and pursue employment both at home and abroad. GoinGlobal supports more than 800 top universities from Singapore to St. Louis to Saudi Arabia including:
78% of US News & World Report's Top 50 National Universities

64% of The Financial Times Global MBA Ranked Schools

72% of US News and World Report's 50 Best Business Schools
Read what our college and university customers have to say about GoinGlobal. Visit Testimonials.